METROARCHEO2015 PROCEEDINGS

Proceedings of 1st International Conference on Metrology for Archaeology are now available.
CLICK HERE TO DOWNLOAD
METROARCHEO2015 PHOTOGALLERY

PRESS REVIEW

Click here to download the press review.

METROLOGY FOR ARCHAEOLOGY
The growing interest of archaeological sciences towards new technologies and analytical techniques, has recently improved the combined use of numerical approach and metrological systems to get more detailed archaeological purpose.
For example, advances in computer sciences, data acquisition and modeling, new spectrometric and analytics techniques and remote sensing have favoured the scientific interaction between those disciplines based on numerical determinations relying on measurement data and archaeological interpretations. The advantages of the multidisciplinary approach have permitted to reduce the level of uncertainty in archaeological studies.
In particular, the Conference will involve researchers and operators interested in the valorisation, characterisation and preservation of archaeological heritage with the main objective of focusing the discussion on the production, interpretation and reliability of the measured data.
Moreover, the meeting is designed to give to the archaeologists community a complete framework of knowledge of the "measurement" of archaeological heritage, generally faced up in different conferences with restricted areas of interest.
CONFERENCE TOPICS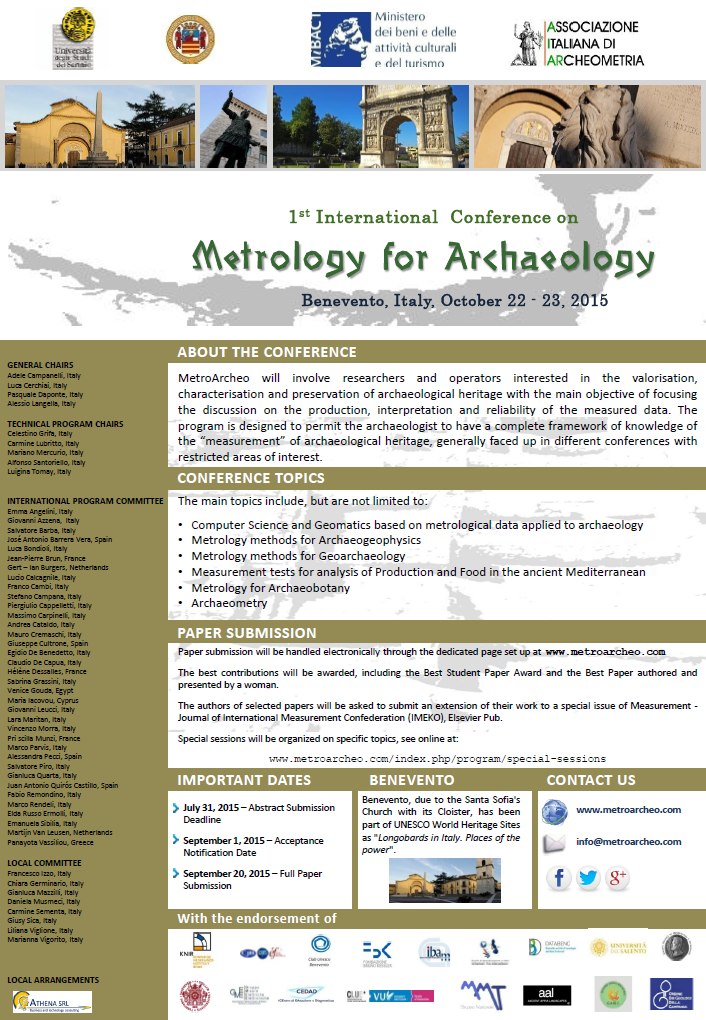 - Computer Science and Geomatics based on metrological data applied to archaeology
- Metrology methods for Archaeogeophysics
- Metrology methods for Geoarchaeology
- Measurement tests for analysis of Production and Food in the ancient Mediterranean
- Metrology for Archaeobotany
- Archaeometry
Special sessions have the main aim of creating a mini-workshop on a specific topic, where researchers working on the same argument can make knowledge, familiarize, exchange ideas, create cooperation. Growing researchers can experiment their scientific leadership by organizing a special session.
Potential authors who intend to submit their own contribution have to strictly comply with the guidelines defined here.
---
All of accepted papers will be included in Proceedings of the 1st International Conference on Metrology for Archaeology being uniquely identified by ISBN.
The authors of selected papers will be asked to submit an extension of their work to a special issue of Measurement - Journal of International Measurement Confederation (IMEKO), Elsevier Pub and/or ACTA IMEKO.
ORGANIZERS

BENEVENTO UNESCO WORLD HERITAGE SITE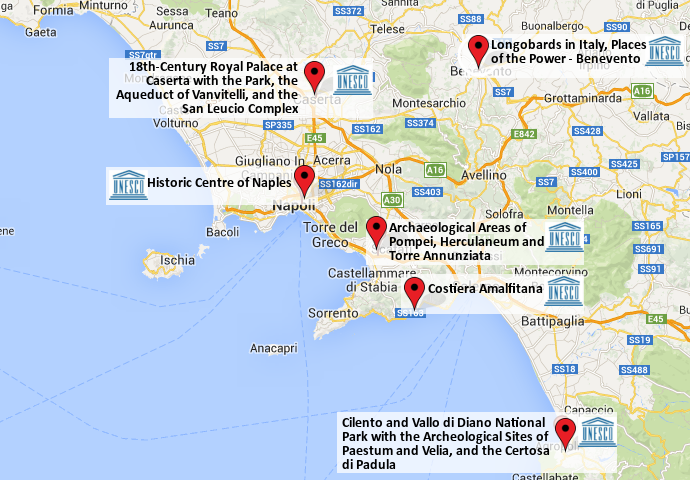 Heritage is our legacy from the past, what we live with today, and what we pass on to future generations. Our cultural and natural heritage are both irreplaceable sources of life and inspiration. Places as unique and diverse as the wilds of East Africa's Serengeti, the Pyramids of Egypt, the Great Barrier Reef in Australia and the Baroque cathedrals of Latin America make up our world's heritage.
Italy dominates the World Heritage Sites list, according to UNESCO, the United Nations' cultural branch. It has 43 locations listed considered as places of outstanding cultural and historical value. This is more than any other European country and practically all major styles of Western architecture can be found in Italy.